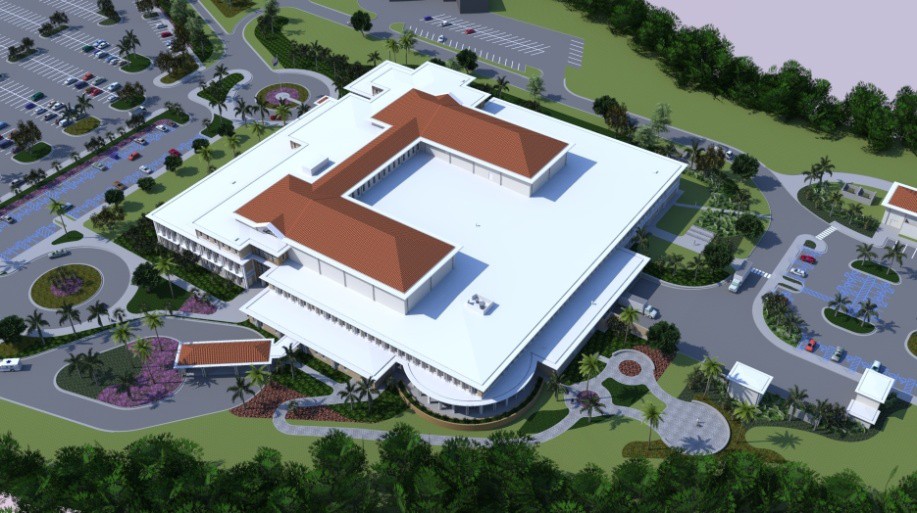 It's hard not to notice the progress of the replacement hospital project as the new building continues to grow to the west of the current Naval Hospital. The first floor is nearly complete and work on the second floor is well underway. The project workforce averaging 200 personnel has placed over 12,000 cubic yards of concrete and 1,186 tons of steel to date. The 281,000 gross square foot hospital is currently 21% complete with delivery anticipated for late 2013.

The completed hospital will provide 42 beds, four operating rooms, two cesarean-section operating rooms and improved diagnostic and ancillary capabilities to include magnetic resonance imaging (MRI). The project will also provide 912 survace parking spaces and an upgraded Central Utility Plant, complete with 100% stanby emergency power to support continuous hospital operations.

The replacement hospital project has two phases; the Phase One constructs the replacement facility. Phase Two of the project includes demolition of the existing Naval Hospital and parking lot construction. Demolition and parking lot construction is expected to be completed by the end of 2014.

The replacement hospital's evidence-based design will deliver an organized, efficient and adaptable three-story building to delvier healthcare for many years to come.

Patient travel distances will be reduced by the straightforward approach of organizing high traffic clinic and ancillary areas in closest proximity to the main entrances and circulation spines and lesser clinic and inpatient activities located on the upper floors.

The building features a 3-story skylight (clerestory) atrium space that serves as the principal circulation and orientation space within the facility. The clerestory windows high in the atrium will admit additional day lighting in the center areas of the building. A major advantage of this straightforward design is the ability of our patients to quickly see destinations upon entering the building.

The replacement hospital reduces the area of exposed exterior closure, which will contribute to reduction of energy and operating costs. The facility was designed to meet the U.S. Green Building Council's Leadership in Energy and Environmental Design (LEED) Silver standards.